Sangiovese meets Percarlo
giovedì 10 dicembre 2015 00:00:00 Europe/Rome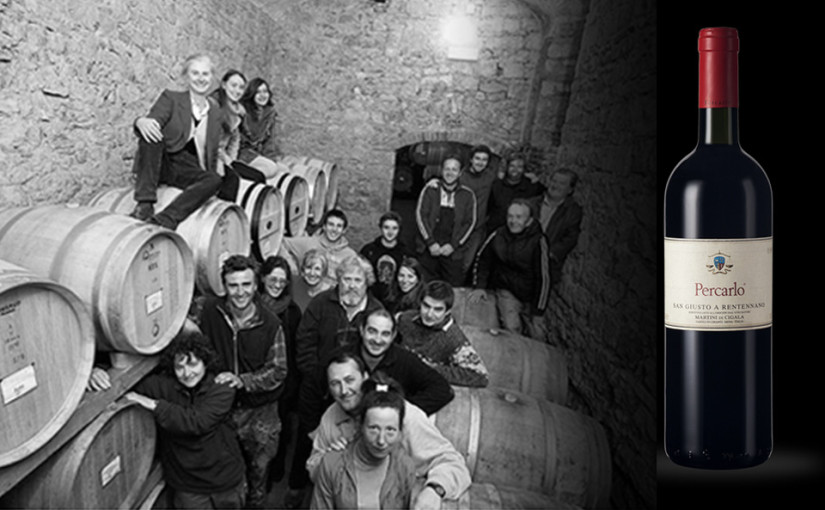 Sangiovese meets Percarlo
Sangiovese is Italy's most diffused vine variety, though I sometimes wonder why. Growers generally agree that it is difficult to cultivate, sensitive to climatic exigencies and that its numerous subvarieties yield uneven results from place to place and year to year. Yet, although I find it hard to explain its popularity as a source of wines that are often ordinary or lost in blends, I have no doubt that Sangiovese at its best ranks among the noblest of red wine varieties—and not just of Italy.
As a confirmed "Sangiovesista," a pillar of my faith is Percarlo made by the brothers Francesco and Luca Martini di Cigala at their San Giusto a Rentennano estate in Chianti Classico. Percarlo, first produced from the 1983 vintage and named in memory of Carlo, a friend, is a pure Sangiovese from choice grapes picked very ripe in four different vineyards of the estate.
Percarlo in its youth stands among the biggest and boldest of Sangiovese wines, though its truest attribute is the innate elegance that becomes ever more elaborate with time. What intrigues me most about its nuances of bouquet and flavor is an aristocratic rusticity that speaks eloquently about the nature of the people and the place.
San Giusto a Rentennano lies at the southernmost point of the commune of Gaiole near the village of Monti. The position, isolated from the mainstream of Chianti Classico, suits Francesco and Luca just fine. The brothers, like their wines, stand apart from the crowd in Chiantishire, shrugging off the noble heritage (including a maternal link to the Ricasoli dynasty) that others flaunt.
When Barone Bettino Ricasoli in 1872 devised the formula for Chianti, he lauded Sangiovese for its vigorous sensations but suggested rounding its rough edges with Canaiolo and diluting the blend with white Malvasia in wine to drink young. In the decades that followed, the formula was further diluted with torrents of Trebbiano as cheap and cheerful Chianti in flasks became the world's most popular—and joked about—wine.
Only in the 1980s, with the advent of DOCG, did producers concede that Sangiovese could stand alone in Chianti, though they hedged their bets by permitting other varieties in blends. Chianti Classico may be the most heterogeneous of the world's major wine zones with a maze of geological elements underlying its vineyards, among which, skeptics contend, only a fraction are ideally suited to Sangiovese. That may help explain why so many winemakers choose to "correct" Chianti or Super Tuscans with the likes of Cabernet and Merlot.
No such corrections at San Giusto a Rentennano, where experience has dictated the limited places where Sangiovese thrives. Of the estate's 160 hectares, only 31 are devoted to vineyards, rigorously maintained following organic methods. Much of the Sangiovese goes into their two versions of Chianti Classico, including the Riserva Le Baroncole, that include traces of Canaiolo.
White Malvasia and Trebbiano are used in the estate's Vin Santo, which ranks with the finest of Tuscany. They also grow Merlot. Not for blending but in a pure state in La Ricolma, which wins almost as much praise from critics as Percarlo.
Burton Anderson

You must be logged in to post a comment.
click here to log in